We are in need of volunteers to help in the kitchen. No experience required!
Please consider donating your time once a week…or more…we won't turn you away!
Contact the office or speak with the kitchen manager, Mike Porcelli
---
Sunday Mornings:
Breakfast is served from 8:30 am until 11:30 am
FULL MADE TO ORDER BREAKFAST is 3 Sundays a month
Please refer to the Calendar for the Buffet Sundays
Come see Turkey Todd, Barry, Jen, Bud, Debbie and the rest of the gang!

The bar is now open from 10 AM to 6 PM
FREE POOL!
During Race Season we have wings and Drinks Specials!
---
Dinner is open to the public and served
Monday thru Friday between 6:00 – 8:00 pm each night
(unless otherwise stated).
---
Monday – Pizza, calzones, pizza rolls, meatball subs, and Soft Pretzels
NOW EVERY Monday!
$12.00 buckets of beer
---
Tuesday – Tacos and Burritos and NACHOS!
Largest in town
$2.00 Juarez Tequila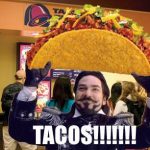 ---
Wednesday – Chicken Night and LADIES NIGHT!!! 
WINGS are back!!
$2.00 wine by the glass
---
Thursday – Kitchen Manager Choice
Every third week we have a 12 oz steak; Rib eye, t-bone, or other and sometimes a choice from all three!  
The price includes a choice of potato, vegetable, garlic toast and a salad!
Free pool on Thursday nights after happy hour and it is "Active Duty" night.
Dinner specials are now being served; check the Calendar for tonight's special!
---
Friday – 
The Grill is open with all your favorites from 6- 8 pm!!!
Burgers, cheese steak, BLT's, and other sandwiches and don't forget the fries and onion rings!
NEW MENU ITEMS!!!
Hand battered fried fish basket served with homemade coleslaw and hand cut french fries, Chicken Philly served with onions and peppers, the "Build a Burger" where you decide which toppings to add to our hand pressed 1/4 lb hamburger and our new fresh, hand cut french fries.
$3.00 Fireball
---
Saturday – No dinner served
HOMEMADE Pork Skins, Slim Jims, Peanuts, Popcorn and Chips
Bartender's Choice for drink specials